Jeemak 14'' LED Selfie Ring Light with Stand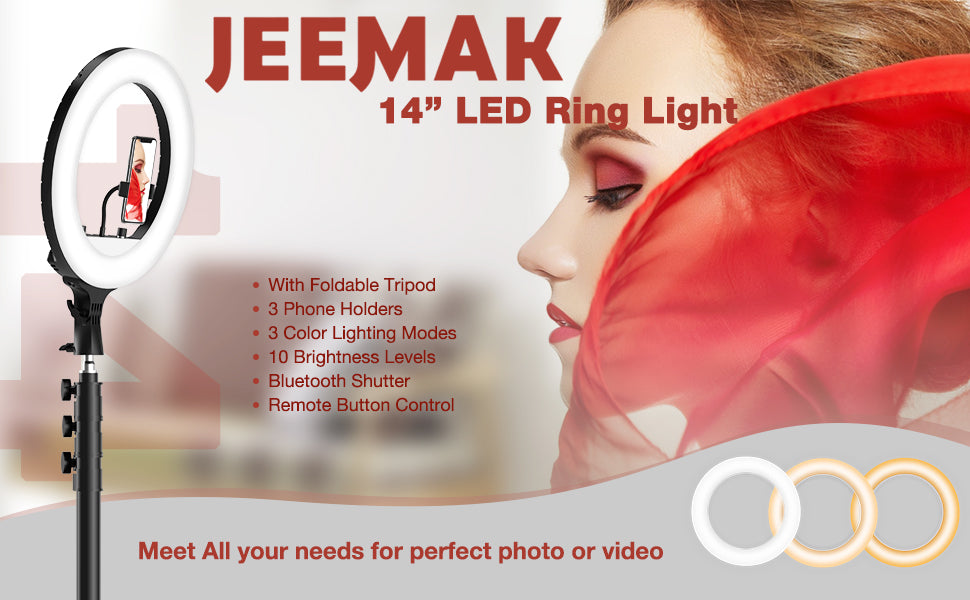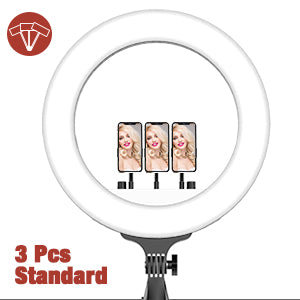 3 Mobile Phone Positions
With three card slots on the light ring, you can use three mobile phones of any model at the same time,realize multi-angle shooting.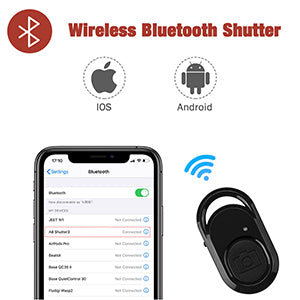 Bluetooth Remote Control
Bluetooth remote control allows you to control your phone while shooting photos or recording videos, which compatible with iOS and Android smartphones. The remote control function of the ring light can be used for parties, graduations, weddings, travels, and other occasions to make shooting easier.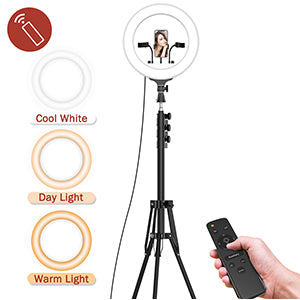 Infrared Remote Control
Using the infrared remote control of the led ring light allows you to control and adjust the color temperature and brightness of the selfie ring light more conveniently.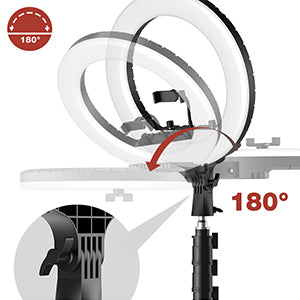 Angle Adjustable Light Ring
The light ring can be rotated 180 degrees to meet the needs of any shooting angle. Rotate to a suitable angle, then tighten the side screws to lock the light ring.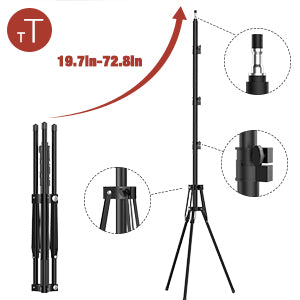 Adjustable and Secure Tripod Stand
The tripod of the ring light can extend from 19.7" to 72.8", it can be used as a desktop tripod, as well as a long-standing tripod also. Easy to install, and it can be adjusted to any length to match your needs, meet most of your needs.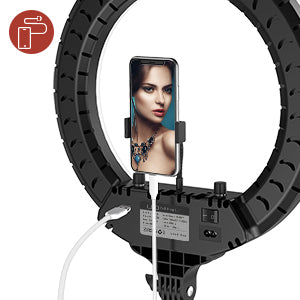 USB charging
There is a USB socket on the back of the light ring. You can connect the USB socket to the data cable to charge the phone for continuous use of the phone.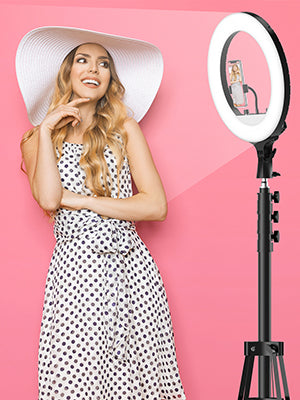 3 Color Lighting Mode & 11 Brightness Levels
The 14" large size ring light equipped with 280pcs LEDs, which have 3 color modes. You can rotate the button or use a remote controller to adjust the color mode(10 different brightnesses) or the color temperature(adjustable from 2700K to 6500K).The curved lamp cover enables the bulbs to give off diffuse light, protect your eyes while brightening up your face evenly, presenting your beauty or product details clearer in your live streaming, makeup.

This desktop ring light with stand has 3 Color Lights Modes:
White/ Nautral White/Warm light (Color Temperature: 2700K-6500K adjustment) and 10 Adjustable Brightness for each color.
Diameter: 14 inch ring light
Features: Wireless and LCD Display
LED Quantity: 280 pcs
Color Temp: 2700K - 6500K
Brightness: 10% - 100%
Lumen: 3600LM
Power: 36W
Input range: 90-365v
Package Included:
1x 14 inch Ring Light with Power Adapter
1x Wireless Remote Control for Ring Light
1x 72.8 inch Tripod Stand
3x Flexible Phone Holder
1x Wireless Remote for Phone
1x Carrying Bag
1x User Manual