Perfect Gift to Your Family and Friends - Invite unlimited friends and family members to instantly share photos from your phone to the electronic photo frame through the frameo app. Or send photos and videos to their photo frame via WiFi. In addition, it is a perfect gift for seniors who are not good at using smart phones to keep in touch with the younger generation.
Instant Wireless Sharing - Frameo being the most popular album software with users around the world. You can easily share photos and videos wirelessly by simply connecting to Wi-Fi. Note: Only applicable to 2.4 GHz WiFi. It also has a USB drive and SD card slot to provide you with more file storage and management options.
HD IPS Touch Screen - The 10.1 " IPS HD touch screen for 1920*1080 resolution can bring you visual feeling, recalling your precious memories. Browse through photos, delete videos, or pause the slideshow, with a quick tap of the finger. Brightness and sleep mode can be adjusted in settings as you want. In addition, you can set the photo or video in the frame to adapt to the screen with one click,No need to click settings one by one.
Built in Large Storage - The picture frame provides a built-in 16GB memory, storing over 40,000 photos of 300kb/pc in the frame. The smart digital picture frame has a very user-friendly operation system, the pictures and videos can be auto-rotated when displaying, portrait, or landscape, place it as you like.
Easy to Setup - User-friendly interface design makes it easy to use for all ages. Only a few steps to complete the setup and intuitive touch screen make the usage much easier than ever. This digital photo frame also has music-play, date display, slideshow, etc. (note: please remove all your external devices when you reset the photo frame)
Jeemak Digital Picture Frame 12.5 inch WiFi Photo Frame with 1080P IPS Touch Screen Portrait or Landscape Stand Auto-Rotate Share Photos and Videos via App at Anytime and Anywhere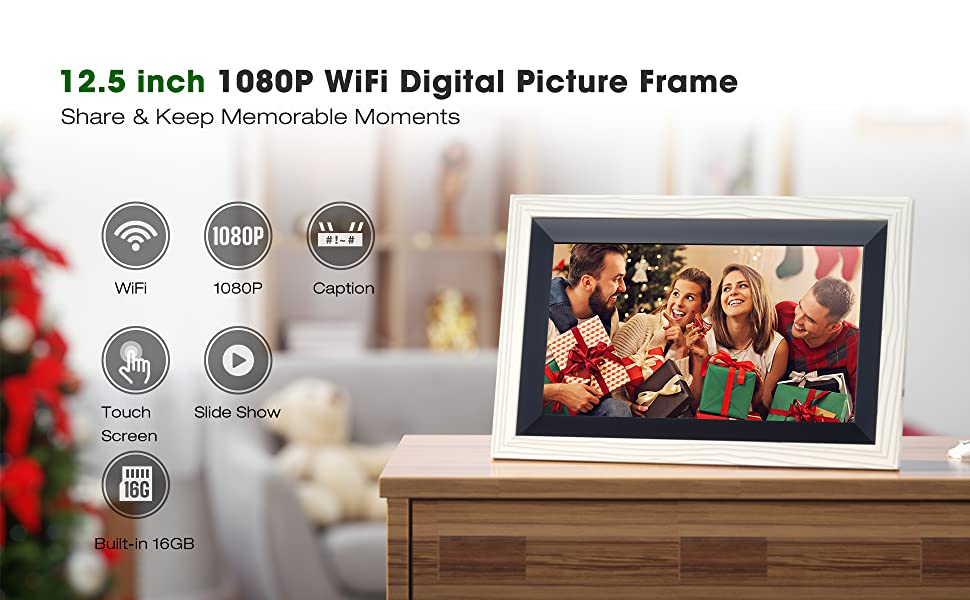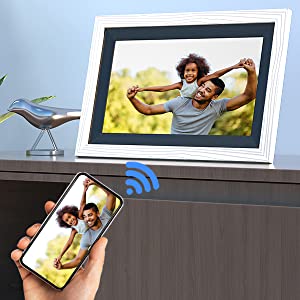 Wi-Fi & App "Frameo"
Jeemak F30 wifi digital photo frame can receive photos and videos (built-in 16GB) with WiFi (2.4GHZ) connected. And with the free App "Frameo"( it can be downloaded from Google Play and App Store), you can quickly and easily share your wonderful moments with beloved ones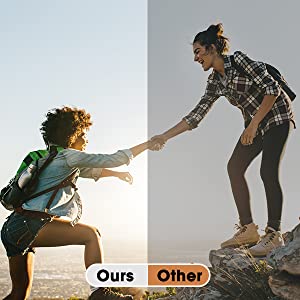 Great Picture Quality 1080P
The upgraded 12.5'' 1080P smart digital picture frame brings you a better viewing experience. With pictures and videos displaying on the IPS high-definition screen, you can enjoy beautiful colors from any angle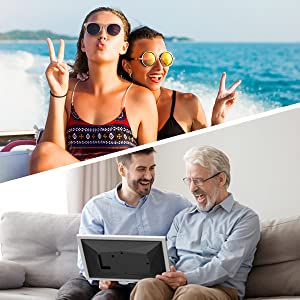 Moments Sharing
Instantly and easily share precious moments with the ones who matter most! The photos can not only be sent from phones, but also can be exported from micro SD card. The digital photo frame supports picture format by JPG/JPEG/BMP/PNG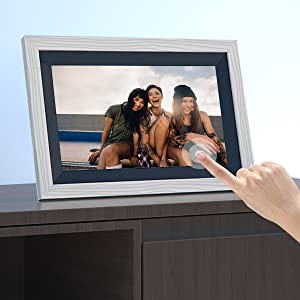 Easy to Operate with Touch Screen
Jeemak F30 digital picture frame built with an accurate touch screen and equipped with a user-friendly interface to control the slideshow and settings. It's very easy to operate and very friendly for children and elders.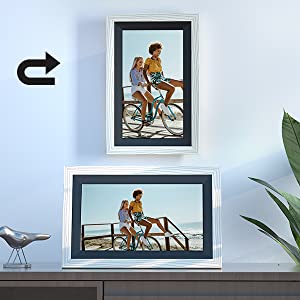 Auto Rotate - Portrait or Landscape
You can freely place the digital picture frame vertical or horizontal as you like. The pictures on the frame will automatically rotate when you adjust the orientation.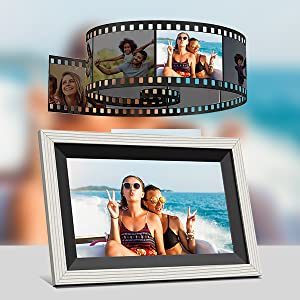 Slideshow & Caption
The digital photo frame is not a traditional frame which can only display photos, it can also play lively videos with max.15 seconds! The videos support MP4 format and can only be sent from the app "Frameo". Besides, you can put a unique caption on photos and videos.
Specifications:
Resolution: 1920*1080P
Screen Size: 12.5 inch(16:10)
Memory Card Supported: micro SD card (max.32GB)
Picture Format: JPG/JPEG/BMP/PNG
Video format: MP4 (only)
Notice:
Jeemak F30 digital photo frame needs to be plugged in all the time.
The digital frame supports MP4 format video and can be only uploaded by the "Frameo" app.
The wifi picture frame has 16 GB built-in storage, 12 GB available for photos and videos except the existing applications.
To protect your privacy, please reset the digital picture frame before returning it.