Jeemak LIGHT is a professional photography & lighting equipment manufacturer, committed to providing professional, convenient and efficient photography equipment to help customers obtain higher quality videos and photos.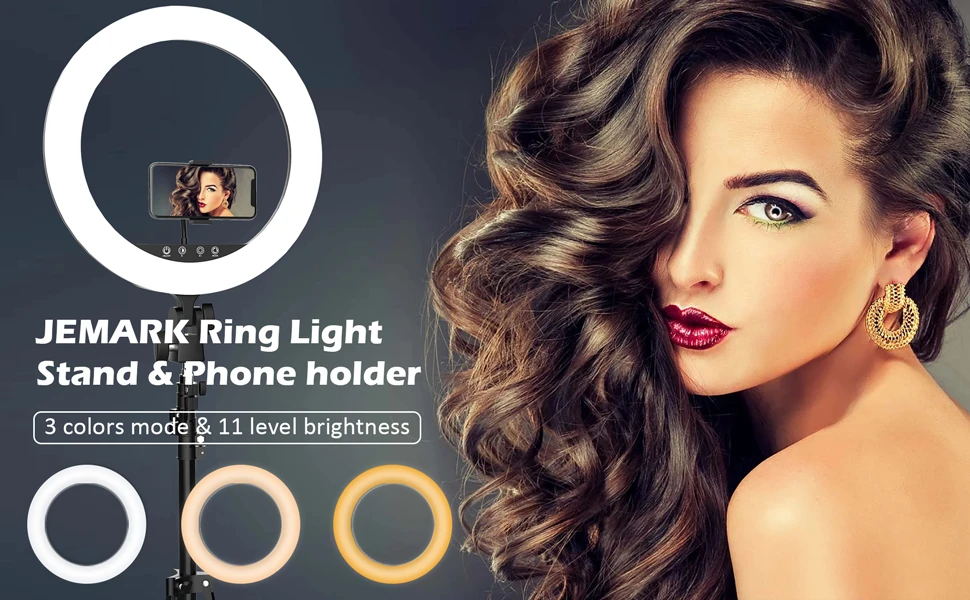 Three Color Temperatures & Ten Brightness
Touch the switch on the 18 inch ring light, you can adjust three color temperatures from 3700K to 5500K and ten brightness. 480 LED lamp beads are installed on the light strip, which provides enough light source for your camera photography, real-time streaming, Facebook Live, beauty makeup, selfie, and video
USB charging and 3 mobile phone positions
There is a USB socket on the back of the light ring. You can connect the USB socket to the data cable to charge the phone for continuous use of the phone. There are three card slots on the light ring, you can use three mobile phones of any model at the same time.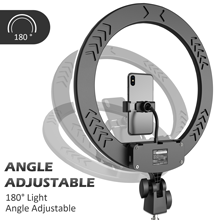 Angle adjustable light ring
The light ring can be rotated 180 degrees to meet the needs of any shooting angle. Rotate to a suitable angle, then tighten the side screws to lock the light ring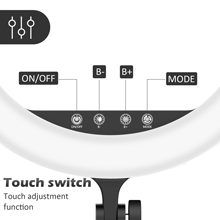 Touch screen design switch
Turn lights on and off
Increase the brightness of the light by 1 to 10 levels
Reduce the brightness of the lighting lamp by 10 to 1 level
Color temperature switch, switch lighting mode (white light, soft light, warm light)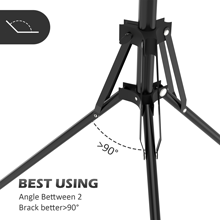 Stable tripod
The material is heavy-duty stainless steel, and each corner can be opened to 90 degrees. Very stable, ensuring safety during use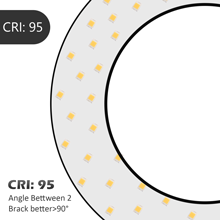 High color rendering CRI95
High color rendering CRI95 lighting can create true, natural colors and high color reproducibility, thereby making portraits more attractive and attractive.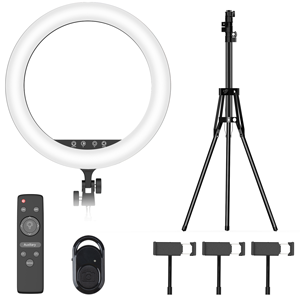 Bluetooth & Infrared Remote Control
You can use the Bluetooth remote control to control the phone to start or stop taking pictures. Use the infrared remote control to adjust the color temperature and brightness of the selfie ring light. More user-friendly design, no need to walk to the side of the ring light to operate.
Package Included:
1x 18 inch Ring Light with Power Adapter
1x Wireless Remote Control for Ring Light
1x 75 inch Tripod Stand
3x Flexible Phone Holder
1x Wireless Remote for Phone
1x Carrying Bag
1x User Manual